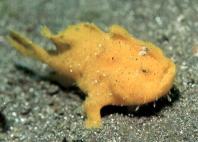 Today, my friend told me
"fish fortune-telling"
.
She said it sooo hit!
Then I tried it...
So it was really hit!!!
My fish character is a frogfish.
Its picture is to the left.
I didn't know such fish.
My result of the fortune-telling is
this
.
The result said I'm a kind pacifist who mild and inconspicuous.
And it said she compatible with me!!!
I'm glad!
But I've already understood such a thing!! lol
And it's Pauli's birthday today!!
Hyvää syntymäpäivää!!!
Then it's holiday is called Vappu in Finland today.
Vappu is a name of the girl who appears in the normothermia mythology.
And it's a big event for students.
It's said that Vappu is a day usually quiet Finns become cheerful once a year!
♪Today's song♪
About My Sorrow /
Negative
I decided to write "Today's song" from today!!
It's a song my feelings on the day♪
Listen if you interested in it!
in Japanese