It's Lauri's birthday today!!
Lauri, Happy birthday ☆.*:'*.:・.
Lauri is a singer with my most favorite band The Rasmus though it was delayed to say.
Well, I introduce them now...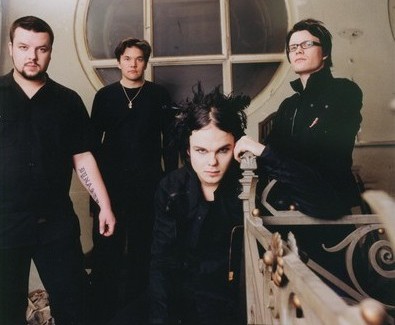 photo: L→R Pauli, Eero, Lauri, Aki
The Rasmus
The band
Rasmus
formed as a school band at the age of 15 in 1994 in Finland.
The members at that time were
Lauri
(vo),
Eero
(b),
Pauli
(g) &
Janne
(ds).
In 1996, they released their debut album
Peep
which sold Gold.
In 1997, they released second album
Playboys
which also sold Gold soon.
Soon after, they received their first Finnish Grammy in the category of Best New Act.
In 1999, they released their third album
Hell of a Tester
.
Drummer
Janne
left from the band in the same year.
And drummer
Aki
newly joined the band.
In 2000, the band was renamed from
Rasmus
to
The Rasmus
.
In 2001, sales of forth album
Into
which released in the same year is well over Double Platinum.
In 2002, they recieved their Finnish Grammy in the category of Best band, Best single (F-f-f-falling), Best rock/pop band and Album Of The
Year.
In 2003, they released the single
In The Shadows
which sold Platinum.
Afterwards, their fifth album
Dead Leters
was released.
It ranked high with the chart most Europe.
They recieved their Swedish Music Award in the category of Best forign song, MTV Europe Award in the category of Best nordic actand so on.
*extracted from
official site
.
Did you become detailed a little about The Rasmus, didn't you?! lol
in Japanese